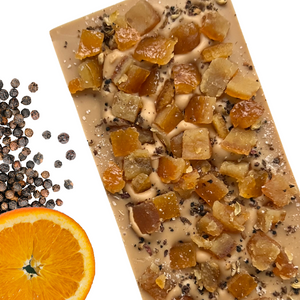 Cake orders must be checked out separately. Thank you!
Pre-order by Monday, 12/11 for LOCAL PICK UP and SHIPPING
PICK UP (Malden, MA) at our 24/7 secure self-pick up locker
* Fri (12/14), Sat  (12/15), Sun (12/16)
* Fri (12/22), Sat (12/23), Sun (12/24)
SHIPPING
* Shipping during 12/13 (Wed) - 12/19 (Tues)
Tingly, lemony, floral, red Sichuan peppercorn paired with candied orange peels on smooth and velvety blond chocolate with notes of butter, caramel, and shortbread. You'll experience deep citrus umami notes from the candied orange which pair so beautifully with the peppercorn. Your taste buds will be going on a completely new adventure with this addicting flavor combination!
Sichuan peppercorn is a spice commonly used in Sichuan cuisine, which is a style of Chinese cuisine originating from the Sichuan province. It has a long history, dating back to the Eastern Han dynasty (25–220 CE), and was initially used for medicinal purposes. However, over time it became popular in cooking, particularly in dishes such as Mapo tofu and Kung Pao chicken, where it adds a unique numbing and tingling sensation to the dish, known as "ma" in Chinese cuisine. We're taking this historic ingredient and giving it a new spin!
(Limited Quantity)
Size: +/- 55g grams (1.94oz)
5.4" length x 2.2" width
Made in a commercial kitchen that also processes: wheat, milk, eggs, peanuts, tree nuts, soy, coconut
Ingredients + Allergy Info
Ingredients
[Blonde chocolate] cocoa butter, sugar, whole MILK powder, dried skimmed MILK, butter emulsifier: sunflower lecithin, natural vanilla extract, salt [Candied Orange Peels] Orange peel, glucose-fructose syrup, sucrose, potassium sorbate, citric acid, sulphur dioxide, red Sichuan peppercorn
Testimonials
The Petite Four desserts are divine and absolutely delicious. They are the perfect sweet treat to gift or enjoy to yourself!

Renee S. (Owner + Lead Wedding Planner of Urban Soirée)
The Petite Four has been my go to when sending thank you gifts to clients. It's easy, affordable, and everyone has raved about how delicious the are!

Lora W.