Designer Cake Collection
Celebrate your next special occasion with style! Cakes for under 50 guests.
Pick from one of our designer cakes for your upcoming celebration. Each cake in our collection was thoughtfully curated just for you. Every cake is made to order.
shop collection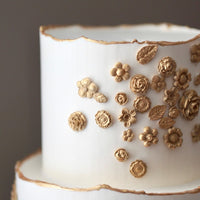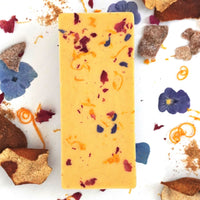 Asian-Inspired Chocolate Bars
A unique set of limited edition choolate bars inspired by the flavors of Nancy's childhood (owner of Silver Whisk) growing up as a Chinese kid in America.
Explore our three chocolate bar flavors and go on an exciting tasting adventure filled with a variety of swoon-worthy flavors. (Limited quantities)
VIEW CHOCOLATE BAR COLLECTION
Weddings
We understand that your wedding cake is not just another cake- it's one of the many important centerpieces of your special day. You and your guests deserve a breathtakingly beautiful and delicious experience, and yes, it is totally possible to have both!
For 50+ guests, we offer custom design work.
For under 50 guests, please see our Designer Cake Collection.
LEARN MORE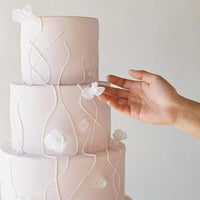 Testimonials
I ordered a cake for my bridal shower and not only was it absolutely gorgeous but it was DELICIOUS! Everyone loved it. Nancy is so nice and great to work with, she made my vision come to life!

Cristina P.
I ordered Nancy's petite fours as gifts for colleagues this holiday and not only did she drop ship them all (and they arrived on time and beautifully) she included personalized notes to each person, making my gift giving easy peasy. I also got some from her and my goodness, did I regret sharing them with my husband they are so good! You can't go wrong with these as a wonderful gift or for any other occasion. And Nancy is the best!

Cory M.
I feel so lucky to have met Nancy through a wedding vendor networking night last year. We've worked on a few events together since then, and I can honestly say she is one of the best. Not only is she insanely talented when it comes to making high end cakes and treats, she's SUPER easy to get along with and always a pleasure to be around.

Lorinda C.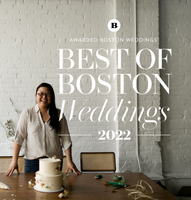 Featured Award
"Textured buttercream, edible gold leaf, and handmade sugar flowers aplenty: Owner Nancy Zhou's attention to detail is simply stunning. And sure, you could go with plain old vanilla, but where's the fun in that? Select from unique flavors such as Key-lime coconut or chocolate-matcha-and-black-sesame to treat yourself to a cake that tastes as good as it looks."
Read More